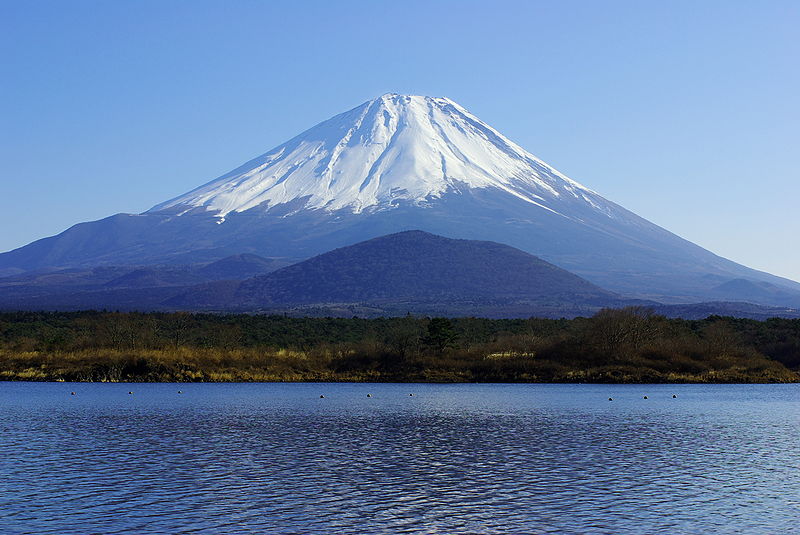 Fuji-Hakone-Izu National Park in Japan, Central Honshu
Introduction :
The Fuji-Hakone-Izu National Park is located in the Yamanashi, Shizuoka and Kanagawa Prefectures in Central Honshu of Japan. The national ark covers 1227 square kilometres in area with its points of interest dispersed into 4 different areas which are the Mount Fuji area, Hakone area, Izu Peninsula and the Izu Islands. The Fuji-Hakone-Izu National Park is the most visited national park in the whole of Japan due to its ease of accessibility from Toyko and a variety of geographic features, scenic mountains and lakes.

Mount Fuji and the five lakes
Image attribution to NNE @ Wiki

The Shiraito Falls is scared to the Fuji cult
Image attribution to fisheystream @ Flickr

The Aokigahra Forest also known as the Sea of Trees
Image attribution to lumen850 @ Flickr
Some attractions :
Mount Fuji – Highest mountain in Japan at 3776 metres with an attractive snow capped peak. Mountain Fuji is one of the "Three Holy Mountains" of Japan and perhaps the most famous landmark that represents Japan.
Fuji Five Lakes – Namely Lake Kawaguchi, Motosu, Saiko, Shoji and Yamanaka located at the base of Mount Fuji formed by previous eruptions. This area is also famous for its udon noodles.
Shiraito Falls – A sacred falls under the Fuji cult and is protected as a Japanese Natural Monument.
Aokigahara Forest – Also known as the Sea of Trees, Aokigahara is a 35 square kilometres forest that lies at the northwest base of Mount Fuji. While it is a popular tourism spot, it is also the most popular place of suicides in Japan and the 2nd most popular in the World.
Owakudani – Known as the "Great boiling Valley" , the Owakudani is a volcani valley with active sulphur vents and hot springs. Eggs boiled in the valley turns black and is a local speciality there. Eating one of them is said to add seven years to your longevity, but it capped at 2 maximum with a third highly unadvised.
Izu Islands – Group of volcanic islands with beautiful scenic trails with the largest of them being Izu Oshima

The Owakudani is famous for its boiled eggs that turns the outside to black
Image attribution to eeems @ Flickr

Winter at Lake Kawaguchiko
Image attribution to ChrisMoore @ Wiki

Botanical gardens of wetlands at Hakone
Image attribution to NEON @ Wiki
History –
The national park was established on February 1936 and was one of the first four national parks in Japan. In 1950, the Izu islands were also added to the park from which it got its present name Fuji-Hakone-Izu National Park. Most of the travel within the park is dominated by Mount Fuji which can be seen from almost anywhere. The name of Mount Fuji is said to originated from a 10th century Japanese tale that came from the word Immortal fushi and also the image of abundant soldiers (shi ji). Actual sources is still unclear to date.

View of Mount Fuji and surroundings from Motohakone
Image attribution to ChrisMoore @ Wiki

Lake Ashi from Mount Komagatake
Image attribution to E64 @ Wiki

Trail in Izu Oshima with lava flows from 1986 eruption of Mount Mihara
Image attribution to Donners @ Wiki

Mount Oomuro is an inactive volcano with a height of 580 metres
Getting there –
The nearest international airport to the Fuji Hakone Izu national park is the Tokyo International Airport (HND) which is also known as the Haneda Airport and serves the Greater Toyko Area of Japan. From Tokyo, it is easily accessible to the national park by shuttle bus or tram with a distance of less than 100 km