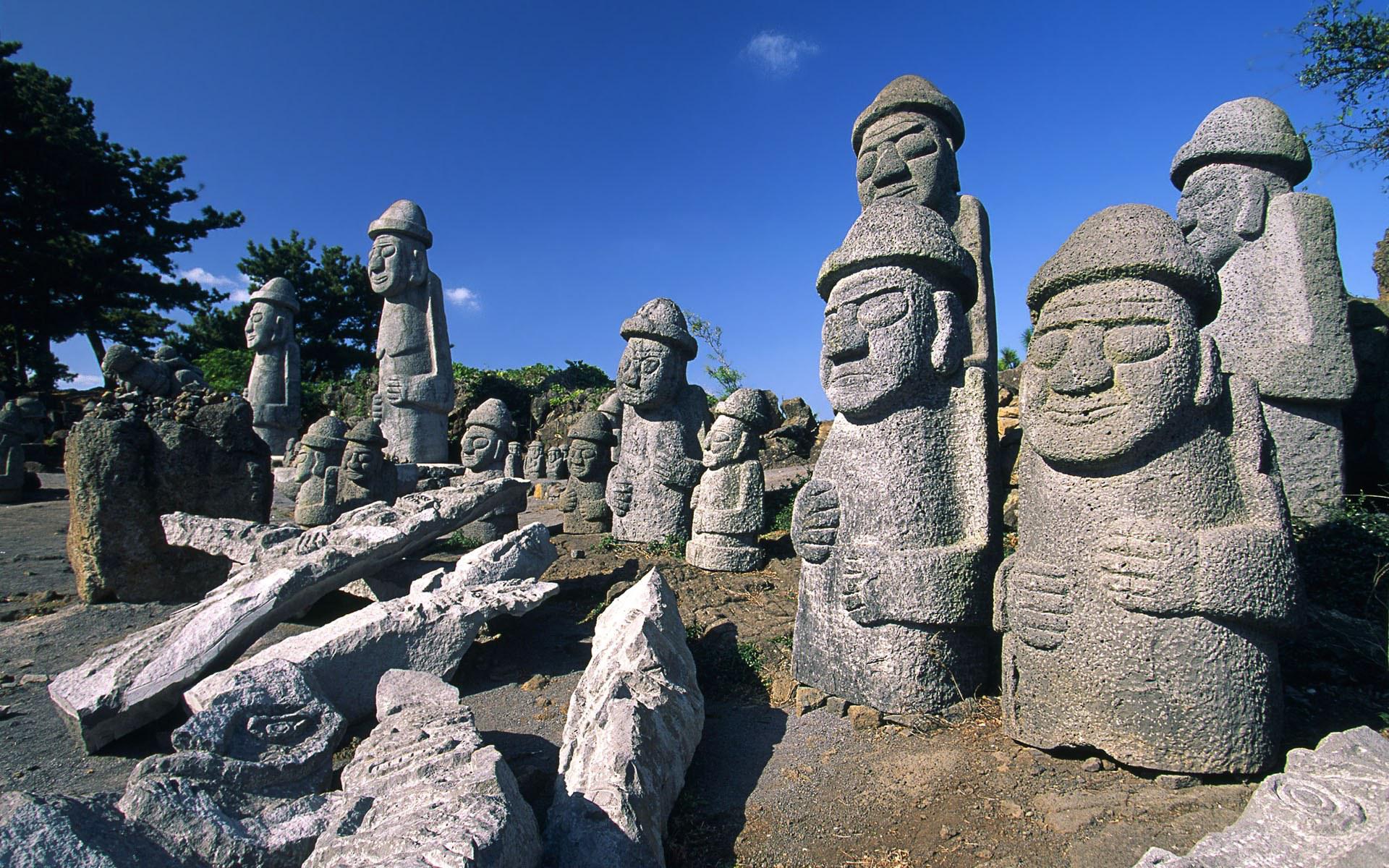 Jeju Island in South Korea, Jeju
Introduction :
Jeju Island is part of South Korea and has been assigned as a Special Self-Governing Province within the country and lies in the Korean Strait, southwest of the South Jeolla Province. The island has a population of 590, 000 and measures 1849 square km in total area making it the largest island in South Korea. Jeju island is famous for its volcanic sceneries and lava tubes which are both UNESCO World Heritage Sites as well as natural heritages within the island. Mount Halla located within the island also has the highest point in the country. The island is also sometimes known as Jeju-do or Cheju to Europeans.

Aerial view of the island with the volcano crater

The beautiful coast at the island
Image attribution to Isageum @ Wiki

The Yakcheonsa Temple
Image attribution to lt @ Wiki
Some attractions :
Mount Halla – Also known as Hallasan, this mountain is the highest point of South Korea and is also a massive shield which takes up large parts of the island and can be seen from most parts of the island. Situated within it are beautiful waterfalls and a lake filled crater creating a site of outstanding natural beauty.
Geomunoreum lava tubes – A series of Lava tube caves formed between 100-300 thousand years ago and widely regardly as the finest lava cave system in the world with beautiful internal scenery.
Jeju Mysterious Road – A short stretch of road that gives you an impression you're travelling against gravity
Cheonjiyeon Waterfall – The most famous and scenic waterfall in the island
Yeomiji Botanic Gardens – More than 3000 species of plants and flowers in an indoor environment of 1120 square metres, it was described as one of the best botanic gardens in Asia.
Green tea museum – Museum built in the shape of a tea cup.

Cheonjiyeon Waterfall

Crater lake at the top of Mount Halla
Image attribution to Mass ave 975 @ Wiki

Tea Museum in the island
Image attribution to lt @ Wiki
History :
The kingdom of Tamna ruled Jeju Island during the ancient times with no proof of time line yet and remain solitary until it came under the Korean Joseon Dynasty in 1404. Legends has it that the ancestors of the Jeju people descended on the northern slopes of Mount Halla and founded the Kingdom of Tamna.

Toilet for the Pigs in Jeju
Image attribution to Hhaithait @ Wiki

Dol Hareubang statues around the Jeju Island
Image attribution to lt @ Wiki
Getting there :
The nearest airport to Jeju Island is the Jeju International Airport (CJU) and serves international destinations such as China, Japan and Taiwan as well as domestic flights from the mainland.