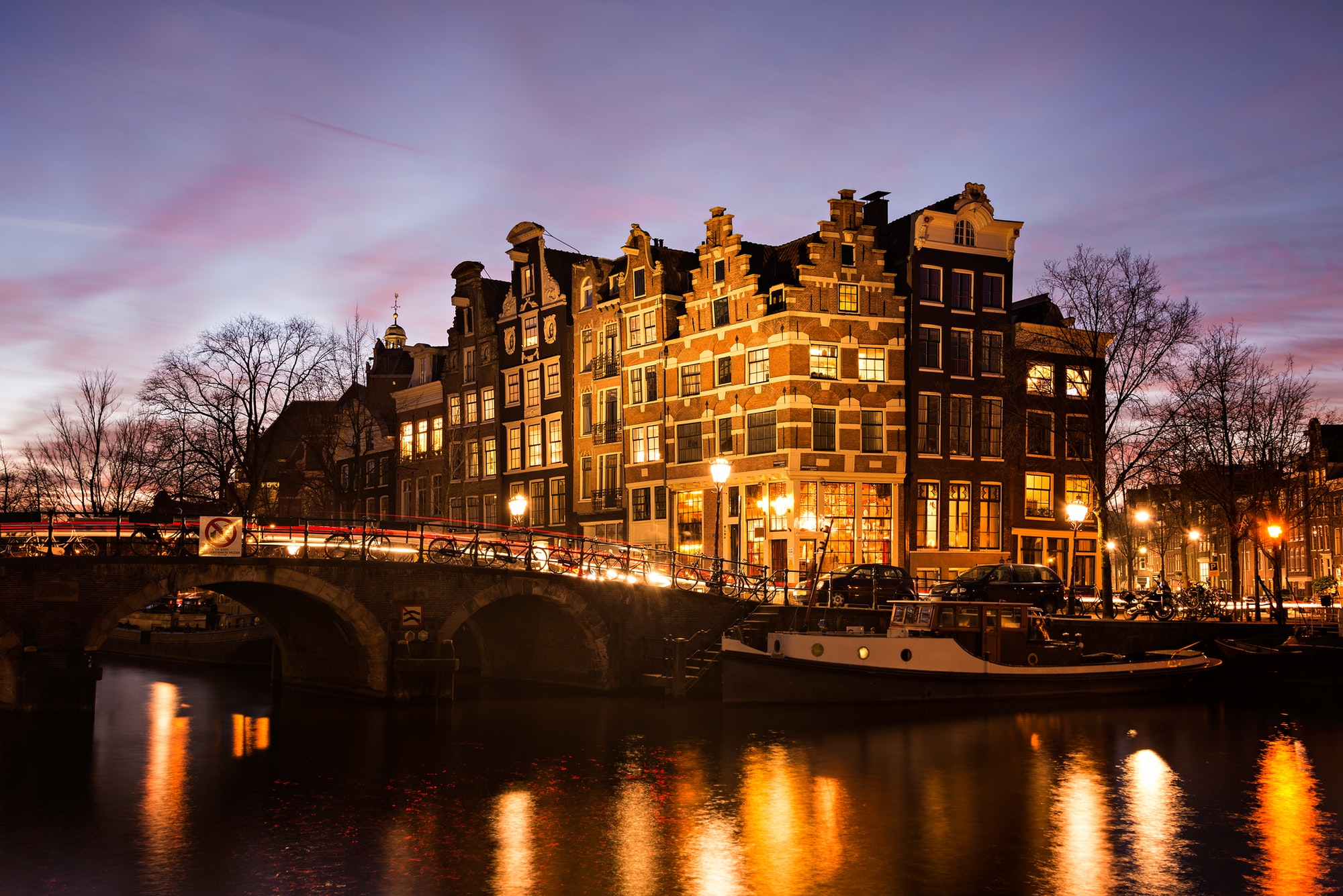 Amsterdam the capital city of Netherlands
Introduction :
Amsterdam is the capital of Netherlands and the largest city in the country located in the province of North Holland. The city has a population of 820, 000 within its city and a metropolitan population of over 2 million with areas of 219 square km and 1815 square km respectively. Amsterdam is renowed for this quality of living and is frequently ranked as one of the top 10 places to live in the world. It is also the cultural capital and commercial capital of the country with some of the world's top comapnies headquarters set up in the city. Amsterdam is famous for its canal system and comprises of one hundred kilometres of canals linking up 90 islands and 1500 bridges. Amsterdam is often referred to as the Venice of the north

Aerial view at a part of Amsterdam

The Magere Brug is the bridge connecting over the river Amstel
Image attribution to Der_Schmitzi @ Wiki

Along one of the canal views in the city
Some attractions :
The grand canals – The main canals in Amsterdam are the Herengracht, Prinsengracht and Keizersgracht forming concentric belts around the city. The 17th century canal area were also placed in the World Heritage List in 2010
Dam Square – A town square in the city with notable buildings and major events making it one of the most well known locations in Amsterdam
Van Gogh Museum – Located at the Museum Square, it has the largest collection of well known painter Vincent van Gogh's paintings and drawings and is the most visited museum in the counry
Concertegebouw – A concert hall widely regarded as one of the finest in the world
Begijnhof – One of the oldest inner courts in the city with a group of historic buildings dating back to the 14th century

The Van Gogh Museum is the most visited museum in the country
Image attribution to daiquiri_frozen @ Flickr

Streets along Kinerstraat
Image attribution to Iilonmay @ Flickr

Concertgebouw is one of the finest concert halls in the world
Image attribution to teachandlearn @ Flickr

One of the oldest inner courts in Amsterdam dating back to the 14th century
Image attribution to Siadhal @ Flickr
History :
The city of Amsterdam got its name derived from its city's origin meaning a dam in the river of Amstel. Inhabitants in Amsterdam began life as a fishing village during the late 12th century and the founding of the city was around 1300 AD. The Golden Age of Amsterdam began in the 17th century where it became the wealthiest city in the World serving as a major international port to ships all over the world.

Dam Square in the Old Centre

Canal view at night time
Image attribution to bryantighe @ Flickr

National monument Slavernijverleden made in 2002 at Oosterpark
Image attribution to Arthena @ Wiki

The Westerkerk Church
Getting there :
The airport serving the city of Amsterdam is the Amsterdam Airport Schiphol (AMS) and is only 9.1 km southwest of the city.