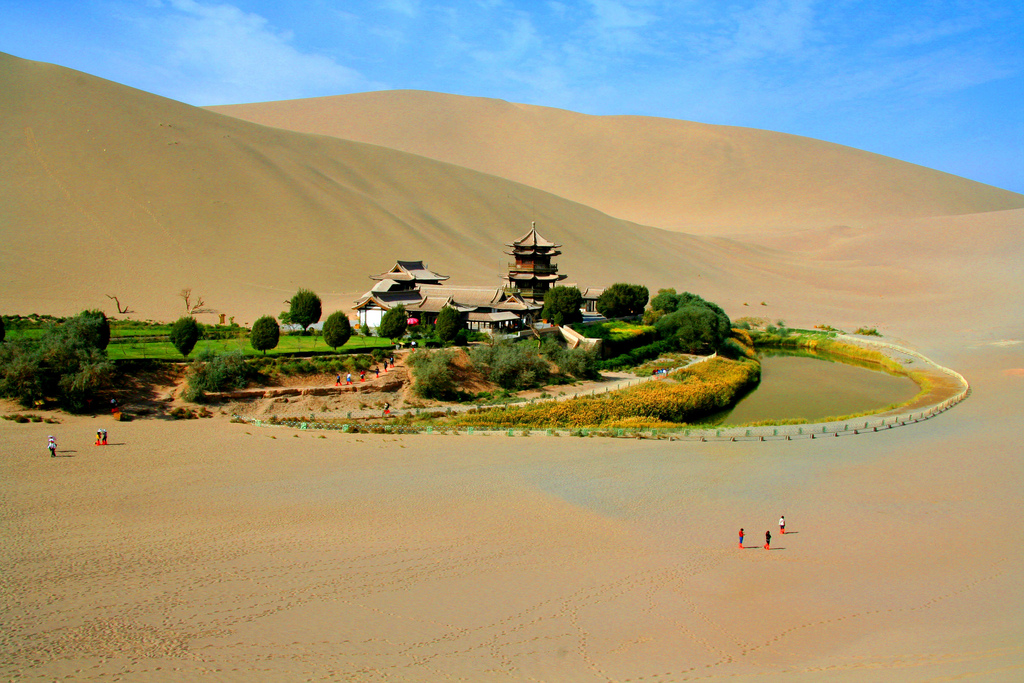 Crescent Lake of Dunhuang in China, Gansu
Introduction :
The Crescent Lake is located near the city of Dunhuang in the province of Gansu in China which offers a unique oasis in the desert with a pavilion built beside it. It is a popular place with tourists with its unique beauty that lies after tiers of lofty sand-hills known as the Echoing Sands Mountains and the combination is often regarded by many as a natural wonder of the Gobi Desert with a helicopter view that looks like a crescent falling down on the desert.

Full view of the crescent lake and the pavilion behind

Closer look at the lake

Reflection of the pavilion on the waters
Image attribution to black lava @ Flickr
History :
Reports has it that the Crescent Lake has been in existence for more than 2000 years, however it has been gradually disappearing due to sandstorm attacks in the Gobi Desert. In 2006, the local government in Gansu started a project to fill the lake and restore its depth to the original level.

Helicopter view of the fallen crescent on the Gobi Desert

Waters around the lake
Getting there :
The nearest airport to the attraction is the Dunhuang Airport(DNH) which serves the city of Dunhuang and the Crescent Lake is only around 4km south of the city.