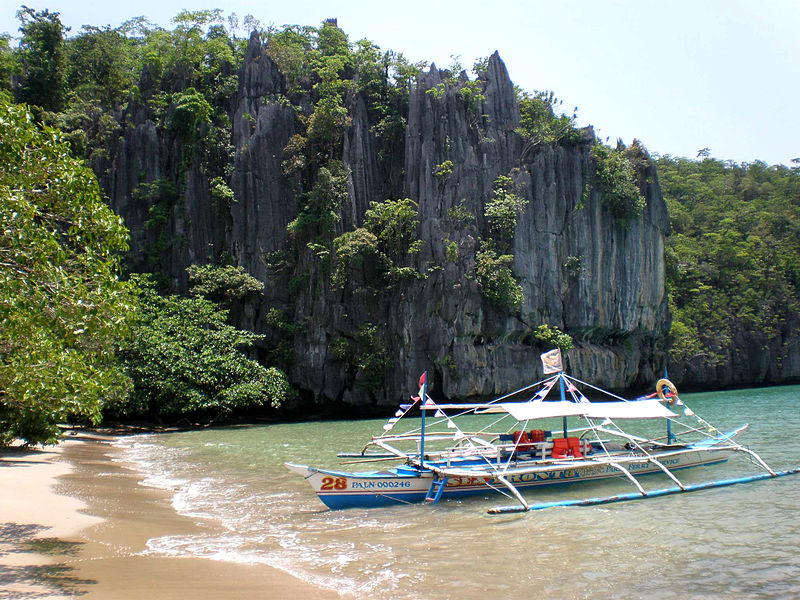 Puerto Princesa River National Park in Philippines, Palawan
Introduction :
The Puerto Princesa River National Park is located in Philippines, Palawan island province and is 50 km north of the city of Puerto Princesa. The national park falls under the Saint Paul mountain range if the island and is famous for its spectacular limestone landscape and underground river beneath. The Puerto Princesa River National Park is one of the New7Wonders of Nature chosen in a global pool in 2012 and is also a World Heritage Site since 1999 for their limestone landscape and mountain to sea eco system. The area of the heritage site is around 57 square km and contains a long 8.2 km underground river and flows directly into the South China Sea with a scenic yet unique cave view.

Docking area to get to the underground river
Image attribution to Matikas_0805 @ Wiki

Entrance into the underground river

Incredible and unique view of the cave river
History :
The geography features in the Puerto Princesa River National Park was believed to have been formed 16-20 million years ago. The earliest documentation of the underground river was in 1887 by American professor of Zoology, Deanc C, worcester that the area is a lake opening to the sea by a Subterranean River. The national park was established in 1971 by President Ferdinand E. Marcos and expanded the area to 220 square km and was declared as a National Geological Monument in 2003.

Closer look at the top of the caves
Image attribution to Paul Chin @ Wiki

Canoeing is the only way to travel the underground river
Getting there :
The nearest airport to the destination is the Puerto Princesa International Airport (PPS) serving the city center of Puerto Princesa. The airport is mainly served by flights from the capital city of Philipine in Manila.